Blog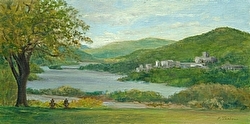 I've been participating in the Artists On Location event at the Garrison Arts Center twice yearly for the past 6 or so years. It entails painting en plein air in the vicinity of the Hudson Highlands that day, popping the freshly finished work in a frame, and handing it over for hanging by mid-afternoon. Art enthusiasts show up a short while later to view the work, enjoy a wine and cheese reception, and decide whether to purchase a paddle so they can bid on the paintings at the Live Auction that starts at 5 PM. There's also another gallery showing previously finished work by the same artists and those are available through a Silent Auction system.

There's a palpable current of excitement in the air during a live auction. Artists feel a combination of edgy, excited, and anxious to see how the bidding goes on their painting especially, and also on everyone elses. Each time there are some paintings that go for a large sum, some priced moderately but within reason, and others that are a steal.

It's not always clear how a particular painting will do and it's not necessarily a matter of how well done a painting is. Sometimes the auctioneer has a lot to do with the outcome. If he tires and isn't as enthusiastic about encouraging the bidding, it can falter. In some cases, an artist has developed a reputation and brings in bidders who want that particular artist's work. Sometimes it's the subject matter that's the draw.

The oil, May Morning, Boscobel, pictured here is the one I painted and sold in the Live Auction.
Comment on or Share this Article >>