Blog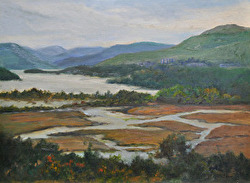 There's a lot to be learned by painting a scene over and over again, and this scene of Constitution Marsh and the Hudson River, which is found at the rear of park-like property housing the Boscobel Restoration, is one I keep coming back to.

It took me 2 or 3 years before I felt I really understood the complicated topography enough to start to really capture what I was seeing on a given day. The combination of receding planes caused by the mountainous terrain on either side of the river, the constantly changing marshland area which narrows and broadens with the tides, the colors of the land which change with the seasons, and the constantly changing weather conditions which affect the sky in particular but the whole scene as well, make this location a perfect choice for continuing study.

I look forward to this time of the year when Boscobel opens to see what another year as an artist whose skills continue to change and grow will bring to another season of painting visits.
Comment on or Share this Article >>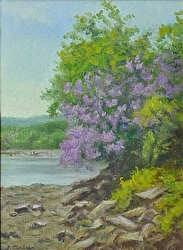 What is it about a particular color that can be so enticing? There's something about finding purple in the landscape that I find irresistible. It always strikes me as a little unreal. The vibrance of purple against green is so dramatic that all my senses perk up at the sight. This is my second painting of the purple Paulownia blossoms that were in full bloom in June along the shore of the Hudson River at Nyack Beach State Park.

I've been visiting the park since way back when I lived on that side of the river in the late 60's and early 70's. In all that time, I've never seen those blossoms until this past year. Now that I'm so totally hooked on painting the landscape, I'm that much more tuned in to beauty in Nature and what I consider ideal times to visit particular scenes.

This painting and 4 others of mine will be on view April 18 - May 11 at Sullivan Library, Dominican College as part of the multi-artist show called The Altered Landscape. Read more about the show in the Events Section.
Comment on or Share this Article >>