Blog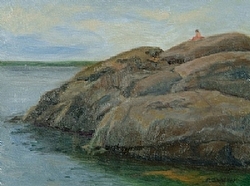 I started the painting that I've been calling Above It All on location and added the figure when I completed it in my studio. I came across it as I was scrolling through my paintings and added it to the Valentine's Collection I've put together with special pricing for the month of February.

I thought about changing the title to more closely express my feelings about the scene. Maybe it would be more accurate to call it All's Right With the World because when I sit on those very rocks at Manor Park in Larchmont, NY, that's how I always feel. That's even when I've come there in the midst of crisis or unhappiness. Perched on Mother Earth, looking out at that tranquil scene, whatever is burdening me drops away for the time being and I'm filled with peace. If you think that solitary figure looks lonely, it's not the way I felt about adding her to the scene. Alone with Nature is very different from feeling lonely.

Nature can have the ability if you tune into it, or let it tune into you, to reach into your very soul. Maybe it's realizing how large it is, and how small we humans are, that I find puts everything in a different perspective.
Comment on or Share this Article >>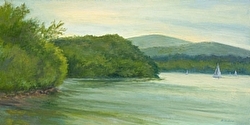 Here's a new, 12"x24" studio painting, Summer Day, Garrison on Hudson, which I chose to paint in the long, horizontal format I've been loving. It bounces off information gleaned from an earlier, 9"x12" painting begun en plein air. I could see it becoming even more exciting by painting it still larger. Lately, I've been feeling the urge to move to a larger studio where larger works would be easier to accomplish.

The narrow format works so well with certain scenes, especially those at the beach or waterfront. It allows the eye to expand outward and into the distance, as it does when you are at such a location, and to be less involved with the foreground close to where you are standing.

Ripples at Garrison, the 9"x12" painting that inspired me to paint this one, can be found in the Paintings Section of this website in the Hudson Valley Collection. Take a look and see how different the same scene can look with a different emphasis.
Comment on or Share this Article >>