Blog
Until last week, I had managed to avoid outdoor painting from the first really chilly days in autumn until it started to warm up in April. I would venture outdoors for a walk and photo shoot on a pleasant afternoon, especially after a snowstorm but then would scurry back to my cozy studio and paint indoors.

I attribute my new courage to try outdoor winter painting to becoming a member of Artists in the Parks and being informed that one of their events each year would be a silent auction art show held under a tent in the middle of the Knickerbocker Ice Festival at Rockland Lake in Congers, NY. One of the requirements for being in the show was that one work must be painted on location at the lake on the first day of the event. Today was the day.

Very luckily, today was a sunny, calm day around 36-40 degrees--colder, when I first arrived. Not daring to make my very first attempt on the day of the event, I decided two weeks ago that the next slightly warm day I could get there, I would head up to the lake and see how I fared. Last week after bundling up in many layers, I met an artist friend at the lake and we worked on a painting. I lasted about 2 hours on location before I was chilled through. That painting is shown in my New Works Collection and is called Cold, Crisp Day.

Today, I figured out some warmer head gear and had both fingerless rag gloves and insulated gloves so I could always have something on my hands as I set up and worked. I added more warmth to my legs but now have learned that I really need heavy ski pants with long underwear underneath to stay warm for hours. Luckily, it was a bit warmer today and, especially because I knew I had to completely finish, I kept going for about 3 or more hours before quitting. I loved the scene I chose to paint (Rocky Shoreline at Rockland Lake) and see that there are wonderful subdued colors in the winter landscape.

I'll be back for more now that I've "broken the ice."
Comment on or Share this Article >>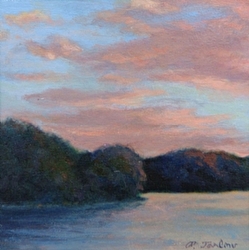 I have been enjoying experimenting with new formats from paintings I've already done by cropping square images in Photoshop from some of my larger, rectangular paintings. I can get an idea of whether a portion of the painting would work anew as an entirely different painting in a square shape. I decided to work in acrylic on paper for these "Tiny Squares" and matting them very attractively in a wide, square mat with a black core. The black core frames the painting with a fine black line and then expands out to the cream colored mat. I've been trying 4", 5", and 6" squares.

There's something about a tiny size that is highlighted with a wide expanse of mat (e.g. a 5"x5" or 6"x6" in a 12"x12" mat), that is both dramatic and charming. It throws me back to my fascination as a child with miniature furniture and food items for dollhouses.

My original reason for trying these tiny paintings was to be able to offer some less expensive work to the viewers at fund-raisers and holiday shows that I enter during the Winter months. Artists are offered the possibility of showing framed and unframed work. These pieces are matted but not framed.

I've decided to post them on my website as well as showing them at local shows. I'll keep them in a new Collection and call them Tiny Squares.

What I've found from doing these small paintings is that I now want to try some of the new squares as larger squares in oil on canvas or panel to see what they look like as big paintings. I definitely have my work cut out for me.
Comment on or Share this Article >>