Blog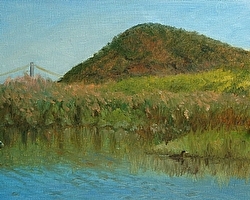 I've been visiting this marshy area at Iona Island near the Bear Mountain Bridge for several years now and keep being drawn back. There are many interesting views to paint and I never know which will call to me on any given day. This painting was painted en plein air for the Artists in the Parks paint-out event at Bear Mountain on a beautiful day in September.

What makes a particular area especially alluring? Every artist will give you a different answer to that question. In the case of marshes, I'm drawn to a combination of qualities. There's always a mix of subtle earth colors to be found in the marsh grasses, reeds, and mud. Then there are the cooler colors of water and sky. Because of the moisture present throughout the marsh, warm colors are often muted and water and sky will often have traces of warm tones in the clouds and atmosphere.

There are also many textural elements present. I love expressing texture with dancing brush strokes that vary with each different area depicted. The textures are then balanced by the smoother areas of sky and water. For me, this creates an ideal blend.
Comment on or Share this Article >>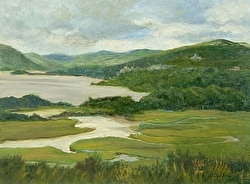 There are several scenes in the Hudson Highlands that I come back to again and again to paint. One is the view of Constitution Marsh along the Hudson as seen from the rear of the property at the Boscobel Restoration in Garrison, NY. The painting pictured here and called Clouds Over Constitution Marsh, a 12"x16" oil on panel just sold over the past weekend at a benefit to support the Hudson Valley Hospital in Peekskill.

The enormous panoramic view that stretches into the distance is both breath-taking and daunting and my first few tries at capturing what I was seeing were less than successful to say the least. I started with small panels as I often do on location and tried to capture that big scene. It didn't work.

My next few attempts were more successful. I chose a vertical format and peaked through an area with trees in the foreground and just a little of the scene
showing through.

When I came back in the Spring of 2008, I found my courage increasing and I decided to tackle larger formats from then on that would enable me to do greater justice to the intricate array of marsh, water, receding mountains and sky. The

I've started to feel that I'm getting the hang of this scene and certainly won't get bored with it. Every time I visit it, the atmosphere, the sky and lighting, and the water levels in the marsh are different. Then, add to that, with each season, the colors are different. Then each year, the weather patterns create differences in the foliage.

As you can see, there will be more challenges and more Boscobel views to come.
Comment on or Share this Article >>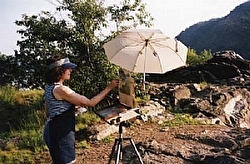 I've been creating tweets and posting them on Twitter for the past 6 or so months. At first it was out of curiosity and reading that it was a wise marketing move, then, because I actually found writing a very short note about something I'm doing or that I'd like to talk about challenging and fun. Today, I had an unexpected outcome from my Twittering that made me see how social media sites can spread the word about me in interesting ways.

First, I started to follow people and organizations which I like and they, in turn, often linked ("followed" in Twitterspeak) to me. As a result, I made contact with a writer for the Journal News, the largest newspaper in my county, who was planning to write an article about local Twitterers. She interviewed me over the phone and then arranged to have a photographer meet me when I was out painting along the Hudson in Croton. Today, in the Journal News Sunday edition, there was the article and there was a picture of me working at establishing the guidelines for my painting. The article included a paragraph or two about me and why I Twitter. Having learned to take one piece of publicity and use it again, I've Twittered about the article, talked about it on Facebook and am writing about it here.

If you'd like to see the article, here's the link to the online version on LoHud.com : http://bit.ly/b81Z4
Comment on or Share this Article >>