Blog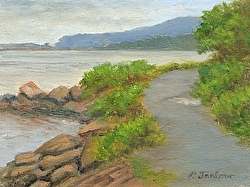 Painted en plein air for the Hooked on the Hook fund-raiser run by Keep Rockland Beautiful and the Palisades Parks Conservancy.

It's not every day that I sell a painting that I've painted en plein air to a person who saw me painting it in both the early stages and as it was beginning to come together in final form. That's what happened with this cloudy morning painting. A friendly woman riding her bike along the path stopped to see what I was doing and we chatted about what I look for in choosing a scene and why I had chosen this one. I mentioned that I was taken that day with the bright greens of the foliage against the backdrop of grey sky and water and subdued atmosphere. I gave her my card and she continued on.

A couple of days later, I received an email asking if the painting was still available. It was. We exchanged another email or two and then I heard from her husband, who said that they would like to purchase the painting.

Today her husband picked up the painting and took it to its new home. What a nice guy! I always wonder if its that particularly nice people are moved by my paintings or nice people in general respond to art.

One of the reasons I've had trouble giving up my connection with doing commissioned portraits, is that a portrait assignment usually means dealing directly with the people involved. Although I enjoy working in solitude, I also like interacting with people. My first impression of doing fine art work was that it would hang in a gallery and be sold to a buyer I never got to meet and that I would be more isolated. After being involved in the fine art side of the art world for a number of years now, I see that happily, at least some of the time, I do get to meet the people who like and buy my work. It happens often enough that it satisfies my desire to know the people who purchase my paintings. There are also the people who come to receptions and don't buy but admire and talk to me about my work, the artists I connect with at meetings, receptions and paint-outs, and those who have become close friends.

All in all, any concerns I once had about moving away from portraits toward fine art have dissolved along the way. Add to that my joy in painting scenes that move me, in a style that continues to grow and evolve and comes out of my inner recesses, and I know I've found my niche.
Comment on or Share this Article >>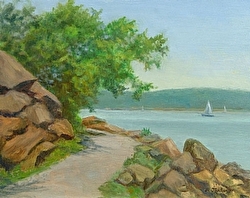 My days spent in preparation for the Hooked on the Hook fund-raiser resulted in several new paintings including the two that sold and a renewed love for that beautiful path along the Hudson that gave me so many opportunities for painting lovely views.

I say renewed because I have been coming to walk along that path since the early 1970's when I lived in Rockland County on that side of the river and my children were young. In recent years, I would drive over the Tappan Zee Bridge several times a year to take that walk with one or another of my friends and have lunch in Nyack but I hadn't attempted to paint there.

The fund-raiser gave me a new reason to take a look at the possibilities for setting up my gear and painting on location there.

There's nothing that compares with the clarity and freshness of the air along a wide body of water. To spend many hours at a stretch drinking in that fresh air and working with intense concentration to capture a particular scene is my idea of Heaven on Earth. I now know it's possible to work along that narrow path without getting in everyone's way and look forward to painting more views through the changing seasons this coming year.
Comment on or Share this Article >>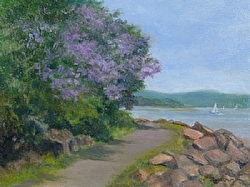 Two weeks ago, I spent several days painting along the Hudson River's West Bank at the base of the Palisades cliffs. Nyack Beach State Park was created along the rail line that used to exist there to haul out stone from the Palisades. Now it consists of a winding waterfront path of crushed rock that borders the Hudson for a couple of miles.

The cliffs of the Palisades festooned at the base with heavy foliage and areas of broken bolders loom along one side of the path. On the other side is the open Hudson River with a view of the Tappan Zee Bridge and the waterfront towns in Westchester County. The River side of the path is lined with rocks and small outcroppings where a tree or two shaped by the wind grace the view.

The week I was there, in preparation for the Hooked on the Hook silent auction and fund-raiser event on June 13 at the park, there were Paulownia trees in full bloom with their luscious purple blossoms festooning the path at points along the way. The painting above was painted to capture one of those trees. I'm still deciding which painting to enter in the first half of the auction, which will consist of paintings already completed. The second painting will be one I do that day and finish before 3 PM.
Comment on or Share this Article >>