Blog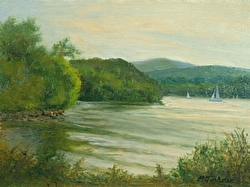 I highly recommend making a visit to the Hudson Highlands area that I so often paint. There is a lovely B&B in Beacon called the Swann Inn of Beacon that's great for a stay in the area. Neil Caplan and his wife, Darlene Swann, own and run the inn. Neil is also a realtor and the proprietor of the Bannerman Island Gallery in Beacon. He's a great supporter of the arts and several non-profit organizations. He actively works to raise money for the restoration of the buildings on Bannerman Island and to keep it open for tours by the public.

Along with showing my work and the work of a number of Lower Hudson Valley artists in his gallery, he also has original artwork displayed at the Inn.

You can find out more about the Inn at the following website:
http://www.swanninnofbeacon.com
Comment on or Share this Article >>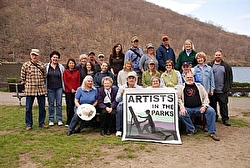 Since a lot of my time is spent working in the studio alone, I really enjoy being part of art groups and associations. That's especially true when it comes to plein air painting.

Just recently, a new group of artists and photographers has formed. It's called Artists in the Parks and the parks referred to are Sterling Forest, Bear Mountain and Harriman State Park in New York's lower Hudson Valley. All 3 are part of the larger Palisades Interstate Parks Commission.

The group arose out of the vision of a young woman, Erica Nagel, Arts Integration Coordinator at the Trailside Museum and Zoo, Bear Mountain State Park. She felt that artists should be made welcome in the parks and encouraged to share their vision of the land with others. She saw making this happen as a coalition between the parks system's commitment to preserving the land and the artists' desire to record it and help to support.

Art exhibits and fund-raising auctions have been planned and will continue to evolve. Everyone wins in a joint venture like this.

See my Events Section for details about the up-coming Hooked on the Hook fund-raiser at Nyack Beach State Park, June 13, 2009. 40 artists will be participating and painting at the beautiful park which runs along the edge of the Hudson. It's hard-packed gravel path is ideal for biking and walking.


Comment on or Share this Article >>