Blog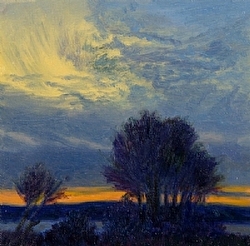 It's always particularly gratifying to have someone feel strongly attracted to a painting that I painted because of my strong attraction to the subject. That's the case with the painting I call Windswept Sky, a small oil study I painted based on a sky that I photographed one blustery winter evening as the sun was going down and as the weather was clearing.

I do a lot of looking up at the sky since I started painting landscapes. I especially love early evening skies with lots of clouds that are sometimes the harbinger of coming bad weather and sometimes the last signs of stormy weather moving out. When it's possible, I grab my camera and head over to the Hudson, which is the nearest open expanse in my area and where I can really get a good view of land, water and sky at the same time.

In this painting, it was great fun and quite a challenge to try capturing the light behind the clouds and the particular broken formation of the clouds that day.
Comment on or Share this Article >>