Blog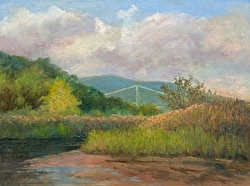 My romance with marshes continues on with this, my latest painting from the Iona Island Marsh. I thought my readers might find it interesting to compare this marsh painting, Bear Mt. Bridge from Iona Marsh, with the painting called Fall Morning at the Marsh in my previous blog post on 9/29.

I painted both of the paintings from the same side of the narrow road that leads onto the island and was standing about 6 feet away from where I stood the first time. The scenes are very different because I focussed on one area one day and turned about a quarter turn to focus on an entirely different scene the next time.

As you can see from the difference in colors between the two scenes, a change of weather and conditions can create a very different atmosphere and that can lead me to choose a different subject. When painting Fall Morning at the Marsh, it was the beautifully bright colors of the very sunny, clear day and the wonderful blue of the sky reflected in the water that caught my eye.

This time, I was especially attracted to the beautiful clouds in the sky. They started out looking very white and billowy. As I painted, the clouds changed shape and took on more and more color and became even more interesting. This was a time that I chased the changing weather pattern as it was occurring because I liked the new look even better. The exposed mud and low tide, the colorful tassels on the tall grasses and the variety of colors in the trees and grasses were also qualities I found alluring.

This year, I hope to go back to the marsh after a snow storm and see what there is to see on a winter day.
Comment on or Share this Article >>