Blog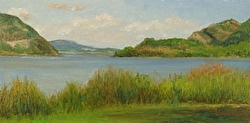 Since I have discovered the majesty of the region known as the Hudson HIghlands, I have been traveling from my Southern Westchester County home more and more often to paint the scenes along the banks of the Hudson there and to search out new views.

The waterfront at Cold Spring, NY affords a perfect place for taking in what's known as the Northern Gate to the Hudson Highlands. It's the area where the mountain ranges on either bank of the river narrow to form an entryway to the wider section South of that point.

The land masses on both sides of the river have particularly memorable shapes. There is Storm King Mountain on the West Bank and Breakneck Ridge on the East Bank. If you look back at many of the early Hudson River School paintings, you will often come across paintings featuring this area from all directions.

There's a wonderful exhibit of early Hudson River School paintings this month at Boscobel in Garrison. Several of the paintings are views of the Northern Gate from an old fort that had been on the property of West Point. These days it's not easy to paint from that position because of security concerns.

Comment on or Share this Article >>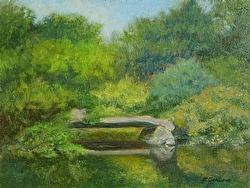 Having spent the spring and summer in New York this year, I've been particularly aware of green landscapes and the challenges they bring.

For the artist, the question is how to treat those greens. Do you ignore the green and simply work with the composition and values but use a warm, earthtone palette like many of the tonalists do?

Do you add color that comes from your imagination and personally interpret the scene or do you try to stay true to the color you are seeing but bring in all the nuances your eye picked up while standing before the view?

Do you paint only at sunrise and sunset when the color in the sky alters the colors on the land?

For now, I work to remain true to the colors I am seeing and make only subtle changes when I feel that would create a more interesting piece. My eye is so taken with the colors that are right there in front of me that it's hard for me to abandon them. I do find that I need to intersperse green scenes with ones containing other colors and to paint the more dramatic times of day when the light gives me other options.

Comment on or Share this Article >>