Blog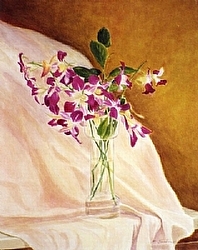 Early this morning I packed up my car with the seventeen paintings that I was bringing up to Lux, Bond and Green for the exhibit that is part of the month-long Art to the Avenue event in the business district in Greenwich.

Because my contact at the store mentioned that they like feminine work, I immediately thought of several of my watercolor floral paintings that I had stopped showing when I turned toward oil landscapes. I have always been quite proud of these paintings and felt that someday I would get back to continuing the series I had begun. Meanwhile, because of the comment, I decided to bring some of them up to the exhibit and give them a new opportunity to be viewed.

Magenta Majesty, the painting I've chosen here is one of the three watercolors that can be seen at Lux, Bond and Green. The opening is May 3 from about 5-6 or
6:30. I'll be there to meet anyone who shows up.


Comment on or Share this Article >>