Blog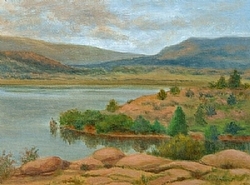 After a few spring-like days and thinking that winter might finally be over, I'm stuck inside today with snow and freezing rain coming down. It's supposed to continue like this into tomorrow.

Rather than paint, I spent most of the day working on my taxes. When I decided I needed a break, I suddenly thought of my website and the fact that I had a winter snow scene on the Home Page. Not feeling at all happy about being plunged back into winter, I decided it was time for a new look.

The painting I chose from among those started on location in New Mexico last August, seemed like just the thing to remind me that warmer weather and painting outdoors is just around the corner.

If all works out as planned, I will be back in New Mexico this summer to participate in the Plein Air New Mexico 3rd Annual Paint-Out Event. More about this in future Blogs.
Comment on or Share this Article >>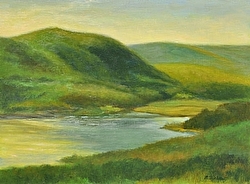 The painting "View From the Bear Mt. Toll House Trail" is one I started on location three years ago. It was one of my larger plein air paintings at 12"x16".

In the two hours or so that I worked on the piece, I fully covered the gessoed board I was working on and was pleased with the composition. By that time, the light had changed drastically and I had to stop. I had only applied an initial layer and knew I would have to go further to truly finish the painting.

As always on location, I bring a small digital camera with me and take many shots of the area as I work and try to bring back with me a few photos of the exact scene that I had been painting. In this case, my photos were strongly affected by the very bright reflections on the water and I didn't feel that they were very useful to me. I ended up putting the painting aside feeling that I would have to return to the scene to finish it further.

The return never took place because the friend who had shown me the way to get to the beautiful view I had been painting moved out of the area. The trail was long and not very clearly marked and I didn't feel safe returning alone or even with a friend who didn't know the way.

Coming across the unfinished painting a couple of weeks ago, I decided that it had real potential and that it was a shame to just abandon it. I knew that I couldn't use my photo reference for guidance so I just decided to allow the underlayer to guide me as to shape, color and value and to improvise the rest.

As I often do while working on any painting as I move along after the early stages, I dialogue with the painting. I keep moving forward and back and do a lot of gazing at it, asking it what it needs to feel complete. It really is as if the painting talks to me.

As I look, some part of the painting strikes me as needing something. I then ask myself what it seems to need and follow my knowledge and intuition to make an adjustment. That process repeats itself until I'm either satisfied that the painting is done, or I just don't know what more I can do.

Sometimes, I'm happy with a completed painting and know that is finished. Sometimes, I just can't get it to work and abandon it. Still another time, I think a painting's done but know that I haven't gotten it quite to where I'd like it to be. Those are the paintings I sometimes come back to and work on again at some point where I have new ideas about what might work because I've changed as an artist along the way.





Comment on or Share this Article >>