Blog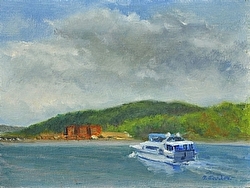 I've been painting many Hudson River scenes over the last few years and I often find myself having to decide whether to add boats or a barge or ship to complete the composition. It's sometimes a very clear choice--the scene needs a boat. Other times, it's a matter of adding that human element because the scene feels a little too static without it, or my eye keeps looking toward the open water and waiting for something to appear.

For this painting, "Motorboat Heading Toward Nyack", I hadn't included any foreground land and felt I wanted something active leading the eye to the far shore.

In each case, I look through a large selection of reference photos I've amassed while spending many hours along the River. The Hudson, being a major North/South artery, has quite a lot of traffic on it. Much of it in good weather is for pleasure, so I see all kinds of yachts, sight-seeing boats, sailboats, and kayaks and sometimes jet skies and windsurfers. But in addition, there are many large freighters and barges and tugboats in evidence.

It's a carefully thought out selection I make as to what to add and where to place it. I'll often make a little sketch to size and move it around over the painting to help me decide. Sometimes, after I've added an element, it doesn't feel right and I wipe it out. Sometimes, it feels like just the right touch. Several times before making my decision, I've asked my son and daughter what's their opinion and usually have one say add a boat and the other say don't. That leads me to think that it's often a totally arbitrary decision about whether it's needed or not to complete the scene.
Comment on or Share this Article >>
Sometimes a painting that I finished a couple of years ago is still in my possession. At the time I completed it, I felt that I had gone as far as I could go with it. Still, any time I came across it, I had a nagging feeling that it didn't feel quite right.





I came across one of these paintings the other day on a day that I was putting finishing touches on a number of my summer paintings and looking through others that I had left in an early stage of blocking in. I was chugging along feeling very happy as I worked and in a very positive mood where I felt that I could tackle a painting or two that I had not known what to do with earlier.





The painting that I'm calling Hudson from Manitou Mountain caught my eye and I suddenly had some thoughts about what small changes I might make to improve the overall composition. I added a little height to the tree on the right and some darker values to the shadow side. I also added to the height of one of the mountain slopes so that they were not so similar in height.





When I make changes like these, I'm no longer looking at the scene or a photo of it. Instead, I'm asking myself, "What does this painting need?" It's sort of a dialogue with the painting itself.





Am I through with this painting? I think so but as long as it's in my possession, you never know. Some new notion about what the painting needs may hit me. This doesn't happen with every painting I do, thank goodness. Some get finished and stay finished and I feel satisfied that they work. Some I discard after a time and decide that I no longer like them.





Let me know if you think this painting is finished and how you feel about it. I may never get back to that location again to give it a new try. A friend, who was a hiker and knew the Hudson Highland region very well, took me to this site. He has since moved and I don't think that I could find the trail again. Oh well, on to new locations and adventures in yet to be found sites.
Comment on or Share this Article >>