Blog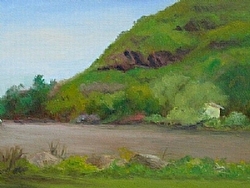 Saturday, I participated in the Garrison Art Center's Artists On Location event. It entailed getting up very early (for me), packing up my painting gear and heading up to Garrison about 40 miles north of where I live. There, I delivered a painting I had previously done to be hung in one of the center's two gallery rooms as part of a silent auction. For that painting, I could set a minimum price to be met before a sale could take place.

I then picked up a bag lunch and headed out to a location in nearby Cold Spring to paint the live auction piece that I would be delivering--completed and framed-- that afternoon. The painting had to be up on the gallery wall by 3:30 P.M. so that viewers could make their decisions about what they would like to bid on.

Plein air painting in general has a fast-moving quality because within a 2 1/2 to 3 hour time frame, the sun moves in the sky and the light falling on your subject changes drastically. A cloudy, overcast day gives you more time because the light remains the same for a longer period. But still, you work with the knowledge that you can always perfect your painting in the studio if you haven't quite completed it to your satisfaction.

A painting done for an event like this has to be completed with very little time for quiet contemplation and finishing touches. You do it. It's done!
There's something quite terrifying and yet very exhilarating about working under pressure like that.