Blog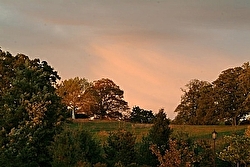 If anyone thinks that the Hudson River School paintings portrayed the light in a scene in a way that was unreal or romanticized, they haven't been present at sunset along the banks of the Hudson on a day when the weather is cloudy or stormy.

Today was that kind of day--one minute sunny, the next overcast, with an occasional passing shower to further confuse the issue. Around 4:00 PM, I thought the weather was clearing enough to chance a trip with my painting gear to Rockwood Road Park in Tarrytown, NY.

As I traveled, I kept marveling at the beautiful cloud formations I was seeing and the variety of greys they contained. By the time I got to the park, another storm cloud was moving in and covering all traces of blue sky and sun. It started to rain but since the weather had been so changeable all day, I decided to wait for a while to see if it would clear.

After about 20 minutes, the rain stopped and the clouds started to break up. That's when the drama heightened. The wind dramatically picked up and it turned much colder. Here and there, the clouds started to become more colorful with orangey tones added to the grays.

At one point, I turned toward the hill pictured and saw this scene. Doesn't it look like one of the scenes favored by the early Hudson River School painters? They didn't have to make up those glowing skies. Is it any wonder that I keep heading West to the banks of the Hudson at day's end and wanting to try my hand at painting what I'm seeing?